Our Programmes
Upendo is a day care center that provides holistic support to orphans and destitute children in Kilifi Township with food, education and school enrichment, healthcare, psychosocial support, shelter improvement, vocational skills training among other forms of support.
Feeding Programme
The children are provided with a balanced diet, three meals in a day at the center from Monday to Saturday across the year. The project also holds a Christmas Party every year and distributes Christmas break food to all the guardians and children.
Education Programme
Upendo meets all the education costs of the children. The project provides them with school fees, uniform, stationery and other educational expenses Upendo also runs a literacy/reading programme which involves book clubs aimed at inculcating a reading culture that will enhance the children's learning skills in school, creating awareness of the importance and power of books, making the library a fun and leisure place as well as encouraging peer interactions through competition and excellent communication skills.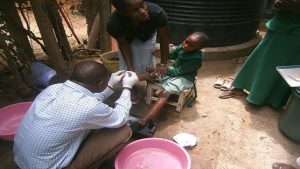 Healthcare Programme
The children's health is maintained through the provision of a regular balanced diet, other basicneeds as well as a loving environment. Upendo meets all the medical costs of all the children under the Project through Kenya's National Hospital Insurance Fund (NHIF).
Upendo Music Group
The Music Group continues to make tremendous progress. The group won two trophies/awards at Injili Music and Mziki Africa Awards with the Best Gospel Cover song of the Year (East Africa) and as the Best Gospel Group of the Year (East Africa) respectively in Mombasa in 2019.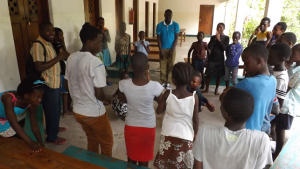 Psychosocial Support Programme
This programme aims at meeting the physical, emotional, social and mental wellbeing of the children. The programme has helped the children deal with adolescence, trauma, grief and anxiety related to parental illness or death. These are explored using quizzes, debates, theatre and poetry. Activities under this programme include the following:
Weekly guidance and counseling
Life skills
Recreation
Family fun days
Guardians/ caregivers' support (through seminars etc)
House Improvement Programme
No child should go without shelter, clothing and access to safe water, basic hygiene and guardianship. Through the provision of clothing, bedding, mosquito nets and shelter improvement, we are empowering the guardians who are the caregivers to our beneficiaries.
We construct decent semi-permanent for the families under our care depending on the level of need.
The project has so far constructed 11 houses and several families are still on our waiting list.
Outreach Programme
Upendo runs an outreach programme for other needy families in the township, providing clothes and other items when available, and keeping an eye on other destitute children who can be taken care of by Upendo when sponsorship is available.
Vocational Skills Training Programme
This programme gives the children vocational skills.  The children are taught three courses under this programme: tailoring, hairdressing and bead work. Under the tailoring course, they are trained how to make their own clothes including their school uniforms.
The bead work course involves making beadwork products/jewelry such as bracelets, purses, earrings, necklaces, etc. The children under the hairdressing course learn about washing and blow drying (conditioning and shampooing), plaiting (plaiting and braiding and preparing dummy dolly), relaxing (long and short hair) and twisting with rastas.  It is amazing how quickly most of them have learnt these skills.